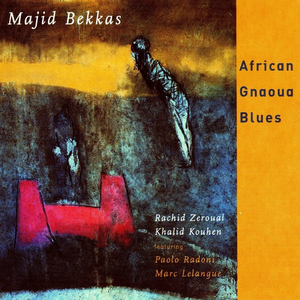 Album: African Gnaoua Blues
Artist: Majid Bekkas
Release Date:
Album Tracks:
Abdelmajid Bekkas was born and still lives in Salé, Morocco. He learnt gnawa music through the teachings of the master Ba Houmane. Gnawa appeared in the 16th century. During the conquest of Sudan, Ahmed El Mansour Dahbi set up the first trading and cultural links between Timbuktu, near Zagora where Bekkas comes from, and Marrakech. This secular music is still considered the "healer of souls" from Essaouira to Marrakech, easily understandable when you listen to the spellbinding sound of Bekkas' voice, guembri and guitar. Like a watermark, the mystery of Africa can be felt in the background, alongside the blues. Gnawa's intact purity is the essence of authenticity. By claiming to be part of Africa, the mother of the blues and its numerous offspring such as funk, Bekkas is placing gnawa in its primary dimension. User-contributed text is available under the Creative Commons By-SA License; additional terms may apply.